2017 Meeting of the International Linear Algebra Society
Hosted by the Department of Mathematics at Iowa State University July 24-28 2017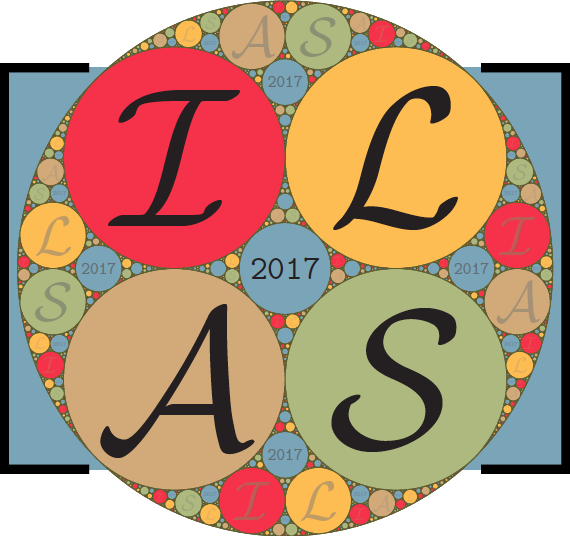 Announcements:
Welcome to Ames and Iowa State University!
Getting to campus for the conference Monday: From the Quality Inn (the conference headquarters hotel), take the conference local shuttle. If driving, park in the Memorial Union Parking Ramp (see Travel link above).
Eduroam WiFi connection is available on campus and is recommended for those whose institutions subscribe. Other people may use ISUguest for WiFi connection.
Group photo at Hoover 2055 at 9:40 am after Plenary session 8.
Program changes:
[changes are reflected in the online program but not in the printed program]
[cancel] Monday P1 MS-2: Bryan Shader (P1 MS-2 starts at 11:10.)
[add] Monday Poster: Camille Felton, Mariana Harris, Stefan Nelson, and Ian Pelakh, Positivity and Slope Limiters for Locally-Implicit Lax-Wendroff Discontinuous Galerkin Methods
[cancel] Monday Poster: Seth Selken
[cancel] Tuesday P5 Contibuted 6: Vadim Olshevsky
[cancel] Wednesday P7 MS-14: Farshid Abdollahi
News:
List of participants available.
Local shuttle schedule available.
05/02/2017 - LAA is pleased to announce a special issue on the occasion of the 21st Conference of the International Linear Algebra Society (ILAS) at Iowa State University, Ames, Iowa, USA, July 24-28, 2017: https://ilas2017.math.iastate.edu/. Papers corresponding to talks given at the conference should be submitted by December 15, 2017 via the Elsevier Editorial System (EES): http://ees.elsevier.com/laa choosing the special issue SI:ILAS2017 Conference. Special editors for this ILAS2017 issue are:

Stefan Güttel
Leslie Hogben
Miklós Pálfia, and
Tatjana Stykel.

In submitting a paper, Volker Mehrmann should be chosen as the responsible editor-in-chief. Authors may suggest one of these special editors to handle their submission. Papers will be refereed according to the usual standards of LAA.
Iowa State University does not discriminate on the basis of race, color, age, ethnicity, religion, national origin, pregnancy, sexual orientation, gender identity, genetic information, sex, marital status, disability, or status as a U.S. Veteran. If you have a concern, please contact Conference Chair Leslie Hogben, email: ilas2017@iastate.edu, or the Office of Equal Opportunity, 3410 Beardshear Hall, 515 Morrill Road, Ames, Iowa 50011, Tel. 515 294-7612, Hotline: 515-294-1222, email: eooffice@iastate.edu.
Iowa State University is a smoke-free campus. Smoking is not permitted anywhere on campus including out of doors. For more information see http://www.policy.iastate.edu/policy/smoking.
Sponsors
We gratefully acknowledge support from the following sponsors: