Ames, IA is located in the center of Iowa about 40 miles north of Des Moines, the state capital. If arriving by air, fly into Des Moines International Airport (DSM).
Shuttle Information
Conference attendees can register for airport shuttle to transport from the Des Moines International Airport to Ames. The shuttle service will drop off at the following four hotel properties:
Quality Inn & Suites (headquarters hotel)
Best Western Plus University Park
Gateway Hotel & Conference Center
For residence hall housing, you may request being dropped off at Martin Hall
Please note the shuttle will not drop off at any other locations than the above listed hotels. The cost is $80 roundtrip. If you have not booked your flight at the time you register online for the conference, please email registrations@iastate.edu once you receive your itinerary. You will receive a confirmation email one week prior to the conference with information about meeting your driver at the airport, departure times, etc. Shuttle requests received after July 10 will be accommodated as space allows; be sure to register early if you'd like to participate in the airport shuttle option.
If arriving by car, you will probably approach Ames on I35 or US30
Parking Information
The nearest parking lot is Memorial Union. It is hourly parking with maximum $12 daily. There are also free street parking available on Campus Avenue and Ash Avenue (the yellow area in the picture below); please see the parking signs on the road and follow the instructions.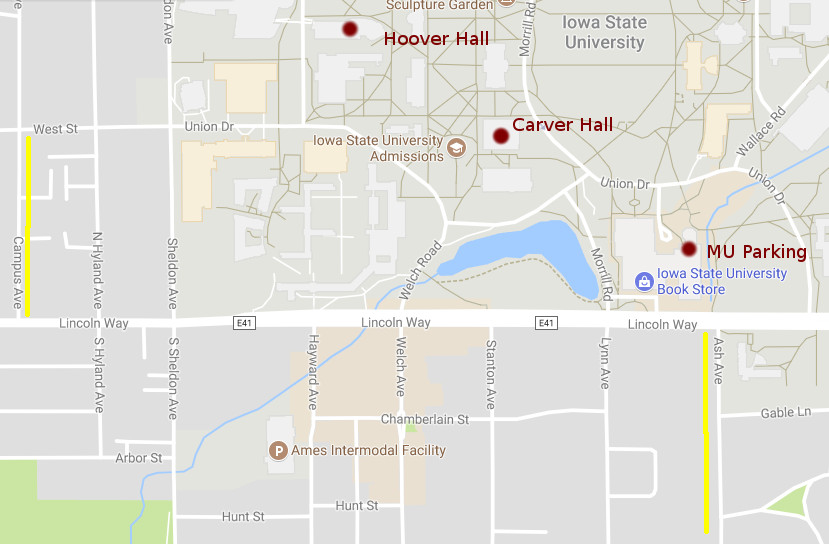 People with the Handicapped Placard issued by the Department of Transport can email the ISU Parking Division (Tina Mercer tmercer@iastate.edu) to get a Handicapped Parking Permit for the week of conference. Note that the handicapped parking spots on campus are first-come, first serve and frequently in use.
If you need other accomondation, please let us know in advance through ilas2017@iastate.edu.